Have you ever sat in a meeting with tech folks and thought, "What are they talking about? Are we even on the same page? How does this help grow my healthcare business?"
At Stringfellow, we want to understand your company and be familiar with your clinics. One of the tools we've used over the years is the Business Model Canvas. The canvas is a tool to map out a company on paper and talk about the main components.
We do this for our stuck clients. It helps them pull back and think about the bigger picture: growing their healthcare business.
Healthcare Problems Discovered
To build this kind of model is to undertake the critical work of understanding the business's most essential pieces. Here are some insights we find:
Overlapping software – Often, different areas of the company use various pieces of software. Are there too many solutions in place? Mapping it out can help us know.
Focus – Is the company trying to grow? Are you just trying to keep the ship afloat? It is helpful for us to know early on so we can help make that our focus for you as well.
Vendor touch points – What solutions do vendors or hospitals use? Do they need access to your system? Does your staff access a hospital VPN?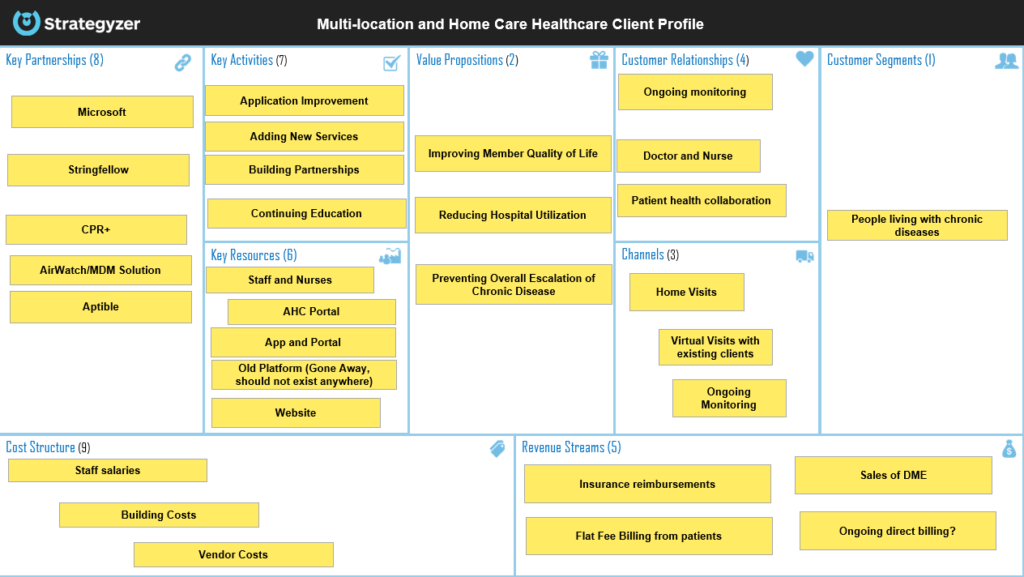 A Canvas Success Story
When leaders know how the business should operate, they can make better decisions. Here is a story about a canvas we did for a client last year that helped. Through this canvas, we discovered specific overlaps in mobile device management software. They were paying an extra $15k/month for redundant software.
We saved them serious money with a better solution. The canvas helped us see how to streamline and optimize their tools to help the company deliver better patient outcomes, and they'll enjoy cost savings for years.
If your tech vendor doesn't understand what you're trying to achieve, reach out today, and let's schedule a consultation.
Resources:
Business Model Canvas – Download the Official Template. (2023). Strategyzer.com. https://www.strategyzer.com/library/the-business-model-canvas
Osterwalder, A., & Pigneur, Y. (2010). Business model generation. John Wiley & Sons.