All of us have deadlines to meet, projects to implement, meetings to attend, and a lengthy to-do list on hand. Keeping track of all the tasks you must take care of in the workplace is without a doubt challenging as daily responsibilities start piling up. If you don't write down all your assignments or keep information logged on a calendar system, it's easy to miss due dates and fall behind with work. Fortunately, as technology is continuing to evolve, more and more applications are being built to simplify the way we organize and handle individual and group assignments in the workplace. With that said, I wanted to introduce a project management tool I've been using, Planner, that has been extremely helpful for task management.
What is Planner?
Planner is an application that comes with a Microsoft 365 subscription and makes it easy to stay organized, assign tasks, and keep track of your progress. This also means it can be synced with other task-related applications like Microsoft To-Do and Teams.
How does Planner work?
At the homepage of Planner, you'll see three different views on your left panel labeled as New Plan, Planner Hub, and My Tasks. In New Plan you're given the option of creating a new board to track individual or team projects while Planner Hub allows you to see all the Teams you are apart of. My Tasks will simply show all the tasks you've created yourself or been assigned to work on by someone else in your organization.
So, what does Planner do, and how does it work? It allows you to create and map out a planning board of to-do items or "buckets" in a table format. You can label different columns to organize your buckets by subject and also add / assign group members, include deadlines, and input information into each bucket that relates to each particular task. For me personally, I like to attach documents, add links, photos, create checklists, or add general ideas to each bucket so everything I need for that task is saved in the same place. Planner also provides you with three different views of tracking your tasks – Board, Charts, and Schedule. This allows you to see your to-do items in table, chart, or calendar format. Some people prefer one view or the other, so it's nice there are options.
Planner also includes several ways to track progress of each task, one of the most helpful being the Group by Progress view. This will help you to see all your tasks that are under the status of Not Started, In progress, or Completed. If you're working on multiple projects, Group by Progress is a lifesaver as it reminds you by email when you haven't started or completed tasks a few days before the deadline date.
Main Page View of Planner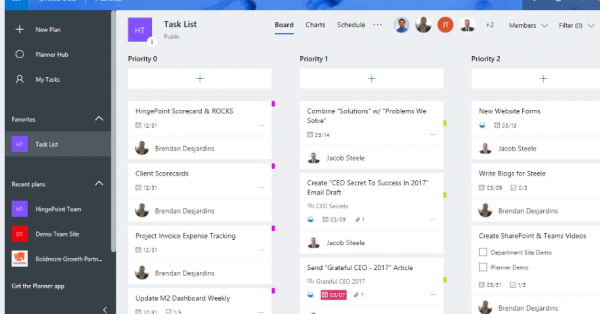 View "My Tasks" to track assignments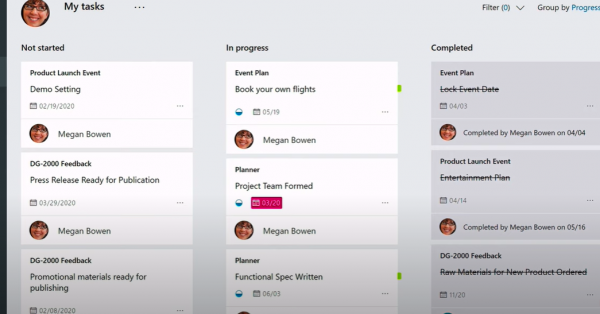 What can Planner do for you?
One of the first things I do every day is open up Planner, along with Outlook and Teams. I keep it open all day so I can consistently track progress of tasks I created or have been assigned to, add updates where I need to, see where I'm falling behind, and where I'm finishing ahead of time.
This application is customized to suit your task management needs. Aside from just creating boards and buckets, you can collaborate with team members on group tasks, see what tasks have been assigned to team members, move tasks as needed, and add relevant information on a single bucket. It simplifies the way group projects allocate work to others, and keeps team members closely connected, despite the size of the group or amount of work involved. All of this while saving all your content in one central place. Whether you're an employee, manager, or part of a remote team, you'll find it easier to plan ahead of time with Planner.