There are many features of Microsoft 365 that some users don't know exists as part of their subscription. In fact, a lot of individuals with access to this plan are aware it includes all Office applications, Microsoft Teams, and OneDrive, but not much else. One collaboration tool that is often overlooked is Microsoft Stream, a video service where team members can upload, view, and share content.
Microsoft Stream, also known as just Stream, is a platform I just discovered recently as I was browsing the web for a video application to use to record trainings. I actually came across Stream and noticed it was part of Microsoft 365, and was included as an application in the "Find an app" section in Teams (where I often pin my favorite apps to the left sidebar of my account). After looking into Stream I found that it lets you upload and edit videos, record live events, create groups or channels, and record your screen. While these are all great functions, here are a few reasons why you may find Stream to be a useful collaboration tool in your workplace: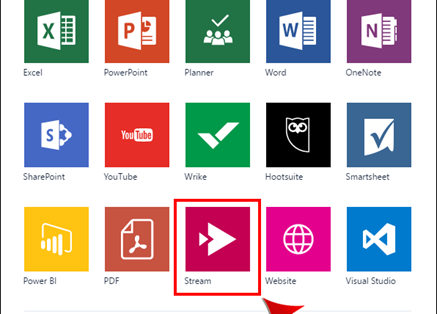 Onboarding & Training with Streams
Having the ability to create videos for onboarding, training, and weekly work meetings make Stream a tool that is worth looking into. It's a given that most people learn best by practicing a skill hands-on, which can be portrayed by seeing visual how-to examples in video tutorials, presentations, and lessons. This is where the recording your screen function comes in handy when it comes to producing how-to trainings. Videos make onboarding and training easier for employers and it allows new hires to catch up to speed quickly in a new role (no matter what industry they work in) and also complete onboarding tasks at their own pace.
Content is secure
Any and all content you upload or create in Stream is secure because it is cloud-based and only accessible by other team members in your workplace that also have a Microsoft 365 subscription. Even then, you can choose to make your internal videos hidden from other users, or made public. Its central hub allows you to manage how your videos are shared and accessed.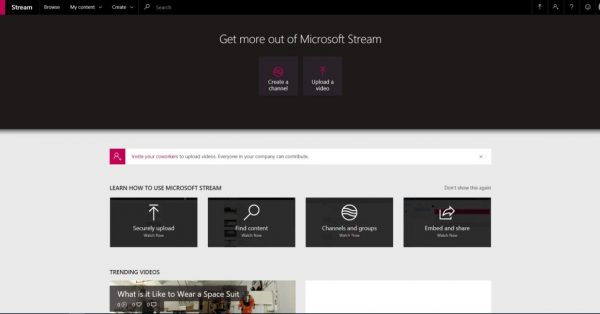 Remote Culture
You'll never feel disconnected from your team with Stream. Important meetings can be recorded and shared, and internal documentation can be made to improve how you connect with other team members and even clients you work for. Stream is a great place for creating company updates and announcements, marketing collateral, and setting up group video projects.
If you haven't tried Stream yet, you can learn more by visiting here: https://web.microsoftstream.com/. As a Microsoft365 user, it's a given to make use of any resources, but especially those that will continuously help you work faster and smarter. Plus, video communication is reliable, engaging, and fun. We'll cover another collaboration tool, Planner in our next blog.